Everything at your fingertips
Top holiday apartments in Innsbruck
A little foretaste of your holiday
Top Attractions Nearby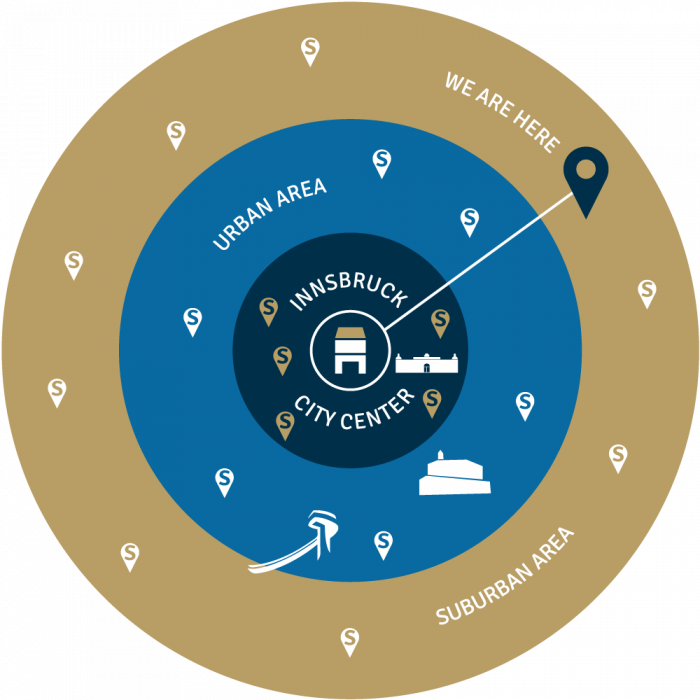 in less than 20 minutes by bus
Historic old town
Goldenes Dachl (golden roof)
Maria-Theresien-Strasse
The Armoury
Audioversum science centre
Schwarzmander Church / Hofkirche
in less than 40 minutes by bus
Alpine Zoo
Bergisel ski jump
Tirol Panorama Museum
Hall old town
Saltzlager Hall at Hall in Tirol
in less than 50 minutes by bus
Ambras Castle
Crystal Worlds at Wattens
Schwaz Silver Mine
Tratzberg Castle
Ötzi village
Experienced hosts with heart and aspiration
In our new apartments in Innsbruck we have combined past experience, current trends and the wishes of our guests. Simply 'staying the night' was yesterday: today we want a place of well-being that pays attention to our needs, envelops us and still lets us breathe.
Our concept is based on air, light and love. The layout of our premium apartments with their spacious terraces (total usable area approx. 140 m2) creates a feeling of space and freedom. The outdoor area with its own wellness oasis (sauna & whirlpool) and cosy seating and sunbathing areas creates a generous addition to the light-flooded living area. The interior design relies on local natural materials and a contemporary interpretation of Alpine living. Comfortably modern, as we call it.
Our passion is for the well-being of our guests. We will take care of your needs and be happy to fulfil special requests. If you have any questions in advance, please email us at urlaub@innsbruck-apartments.at.
For Explorers
Innsbruck & the surrounding area really has a lot to offer including: classic sights, historical and modern architecture; museums and galleries, cultural festivals and sporting events; and numerous excursion destinations, Alpine meadows and breathtaking viewpoints that are guaranteed to leave visitors with long-lasting memories.
For Sportspeople
The term 'sports capital of the Alps' is no exaggeration. As a multiple Olympic city, Innsbruck has excellent infrastructure in almost every area. The numerous possibilities provide individual options for people of all ages and levels of fitness. From classic amateurs to top professional athletes.